At Glen Jenner & Sons, we supply and fit all types of flooring from domestic carpets right through the range to contract carpets and disabled safety flooring.
We do:
– Full preparation to sub floor uplift old flooring, Latex, screeding Plyboard and hard boarding of floors
– Fit carpets, floor tiles including Heckmondwike
– Domestic – Vinyl
– Contract – Karndean, Amtico, Polysafe, Altro
– Capping, coving and hot welding
– Laminate and wood flooring
– Ceramic, quarry and stone tiles
– Accoustilay soundproof flooring
Carpets
We can supply and fit most makes of carpet. We offer a complete service, we'll bring the samples to your door, measure and design, from a straight forward fit to border work, runners with whipped edges, stair runners with decorative stair rods specially designed to your requirements. When we fit a carpet we do a lot more. We move the furniture, uplift and dispose of the old carpet, supply and fit new carpet, hoover off and put back furniture and take away all the rubbish. That's what you call service!
We also offer a complete repair service from changing a door bar to sewing a join, even replacing a step chewed by the dog – no job is too small. Need to take carpets up for running in wires etc? We'll re-fit them. We also offer the complete service of uplifting carpets, repairing the floor whether it's creaking or replacing the floor boards or re-screeding the concrete floors. There's no need to arrange different trades, we'll do the lot.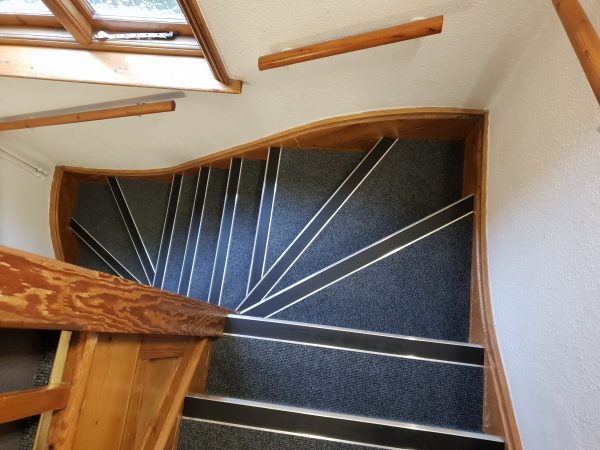 Contract Carpets
We'll move office furniture, even do it out of hours to suit your requirements. We have a good team of fitters, we'll take photos of where furniture is for it to be put back after fitting flooring, strip up old carpets, if there are any unplanned repairs to be done, we have the means for it not to be a problem, we'll bring the samples to you or if you already have a product in mind we can price from your plans as a preliminary cost. We have access to stocks within 24 hours. Ask about our complete office refurbishment and we'll do the lot.
We currently work in schools, playgroups, care homes, hospitals etc. all of which would be willing to give references. If you have a company logo you would like to incorporate into the flooring, no problem we will design it for you. We can even carpet the walls. We will satisfy any requirement.
Domestic and Contract Vinyls
We offer a very wide range of domestic vinyls most within 24 hours, we'll move all the appliances, strip up old floor, sort out any floor preparation that it requires, supply and fit new vinyl and reinstate all appliances. No job is too large or too small!